Fill your basket with products by clicking "Add to my collection" from any product page. This can be found either within the product options panel or below the product image. Collections can be saved, and stored, within your HAGS Connect account or create and print your own custom brochure, download the files you need in one go, or to request a quote.
Ball Sports
Our multi use games areas support physical health and wellbeing by offering a space where children, young people and adults can gather and exercise. Our ball sports arenas are robust, vandal-resistant, certified to EN 15312 and can be customised to fit your area. All panels have been specifically designed to resist repeated impact, reduce noise levels due to rebound and ensure optimal ball retention. Take a look at how you can create a custom multisports arena.
Build a mutlisports court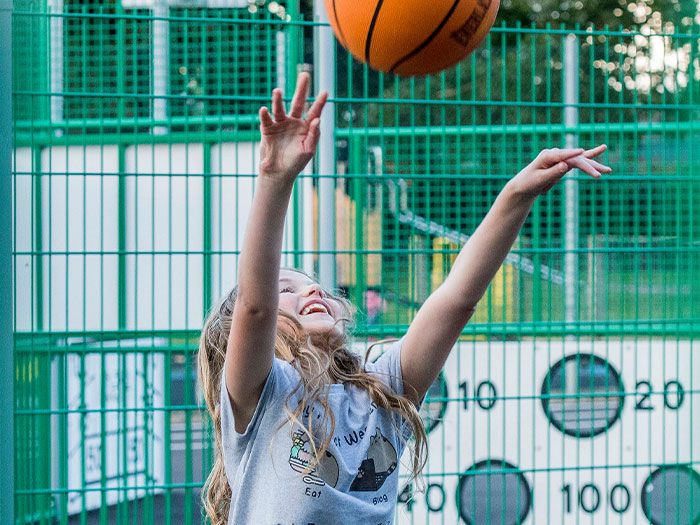 ARENA multisport courts - find out why our MUGAs are inclusive, durable and flexible
Multisport courts provide healthy living opportunities and help foster a sense of ownership among the community. In order to meet the needs of a variety of users, certain features need to be carefully considered, such as access, surfacing, durability of the materials and more.
In this guide we highlight the inclusive features of our ARENA range and explain how easy it is to customise a pitch to your brief.
Dieser Spielplatz für kleine Kinder im Burgdesign verfügt neben der UniMini Spielanlage und dem Spielhaus, die unterirdisch mit einem Sprachrohr verbunden sind, auch über zwei Federwippen und eine Kleinkindschaukel Lillie.
Read More
HAGS worked in partnership with Wokingham Borough Council to develop an innovative Multi- Use Games Area (MUGA), aimed at tackling inactivity, encouraging community spirit and promoting the practice of different sports for all ages and abilities.
Read More

The facility in finchamstead is popular with neighbouring schools and reading football club organise free training sessions for the public. We have also had interest from the SHINE programme (Some Health Improvements Need Exercise), intending to organise programmes for the over 60s