Fill your basket with products by clicking "Add to my collection" from any product page. This can be found either within the product options panel or below the product image. Collections can be saved, and stored, within your HAGS Connect account or create and print your own custom brochure, download the files you need in one go, or to request a quote.
Playground Equipment
Discover a world of imagination, adventure, and endless fun on our dynamic playground equipment. Whether you're a school, municipality, or recreation center, our innovative play solutions are designed to captivate young minds and inspire active play. With a wide range of play structures, inclusive designs, and top-quality materials, HAGS Play is your go-to destination for creating unforgettable play experiences that promote physical, social, and cognitive development.
Explore our extensive collection of playground equipment and accessories to transform any outdoor space into a vibrant hub of joy and exploration. Let's embark on a journey of play together, where safety, creativity, and endless possibilities meet!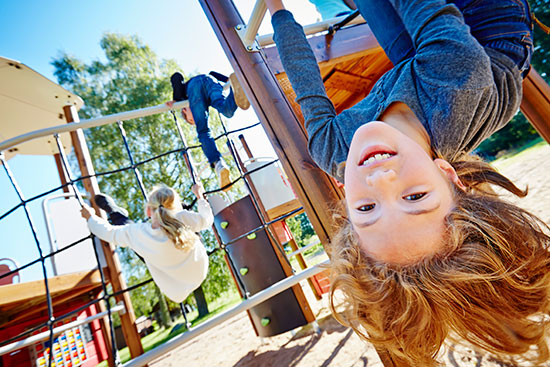 Multi Play Systems
A Multi Play structure can be the centre piece of your playground, providing opportunities for climbing, sliding, imaginitive play and more besides. Most of our ranges are based around modular principles, which means whatever your requirements we can build a structure to match.
Our exclusive UniPlay and UniMini ranges are the most versatile option, offering everything from pirate ship play structures to the very tallest towers, in a whole range of materials.
Browse Modular Multi Play Products
Traditional Playground Equipment
Step into a world of timeless charm and classic fun with our exceptional range of traditional playground equipment. Crafted to shine as standalone features or seamlessly complement larger parks, our meticulously designed swings, slides, roundabouts, and even zip lines are ready to bring joy to any outdoor space. With a perfect blend of quality craftsmanship and enduring appeal, our traditional play solutions are ideal for creating intimate playgrounds or enhancing the grandeur of expansive parks.
Browse our collection today and unlock the endless possibilities of creating memorable play experiences that withstand the test of time.
Play Panels, Accessories and Surfacing
These interactive activities and games challenge children's thinking, memory, and decision-making skills.
Browse Games
Equip your playground with the necessary safety surfacing such as rubber tiles, grass mats, and more. Plus, complete your play area with fun accessories like our animal playground sculptures.
Browse Accessories