Fill your basket with products by clicking "Add to my collection" from any product page. This can be found either within the product options panel or below the product image. Collections can be saved, and stored, within your HAGS Connect account or create and print your own custom brochure, download the files you need in one go, or to request a quote.
Playhouse Eddul
Eddul is a playhouse specially designed with the smallest members of the playground in mind. The playhouse is unique and has been developed in close collaboration with the customer to meet the specific needs of children.
For the smaller children, Eddul is like a magnet. The inviting design and safe, soft lines make this playhouse a place where children can explore, play and learn while being protected from the sun's scorching rays. A carefully designed weather protection over the entire playhouse not only provides a cooling shade on sunny days, but also a rain-free space when the weather doesn't quite cooperate.
Full transparency is important when it comes to children's safety. There are no hidden corners or nooks and crannies where children can hide, which gives both parents and those in charge at the playground a clear overview of what is going on.
Accessibility is another important aspect of Eddul. By having no floor, this playhouse is accessible to everyone, including children with disabilities. This opens up the opportunity for all children to participate in play and creates an inclusive environment on the playground.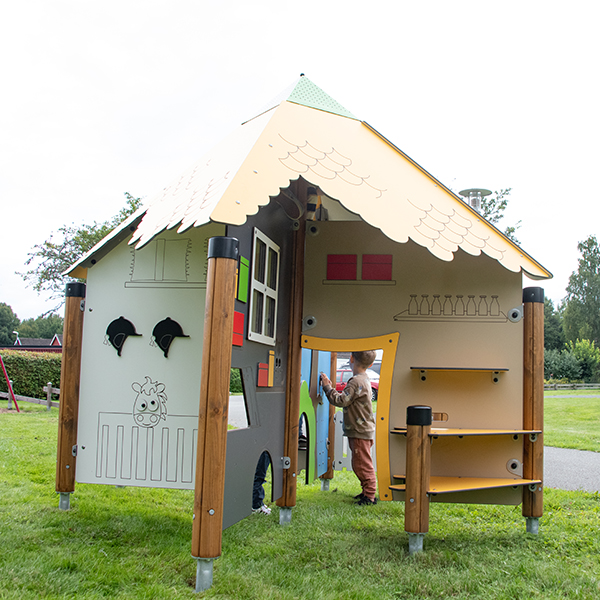 Different rooms to stimulate the children's imagination
Eddul is a fantastic playhouse that is divided into several unique rooms to give children a versatile and imaginative play experience. It's like a whole little world for the children to explore and create their own adventures in.
Inside Eddul you will find a living room with a seat where the children can relax. There is also a kitchen, where the little chefs can prepare their culinary masterpieces. The business section is a fun place for children to pretend they run their own shop. For the more handy children there is a workshop, where they can play and build their own projects.
The creative freedom is endless here. For those who prefer greenery and cultivation, Eddul has a garden where children can grow their own "flowers" and "vegetables" or just enjoy nature. And last but not least, there is a stable where the little "pet keepers" can take care of their animals. Feeding, brushing and caring for the animals gives children a sense of responsibility and empathy.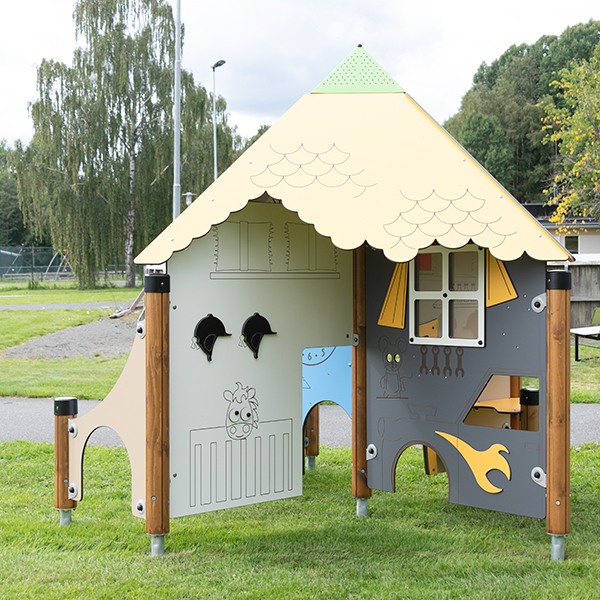 Material & Anchoring
Eddul is constructed with High Pressure Laminate (HPL) and has supporting wooden posts. This combination of materials gives the playhouse outstanding durability and aesthetic beauty.
HPL is known for its resistance to weather conditions, making it perfect for outdoor play. Eddul will withstand rain, sun and wind and will remain in excellent condition for a long time to come. In addition, HPL is easy to clean, which is important to keep the playhouse fresh and safe for the children.
The wooden posts give Eddul structure and stability while creating a warm and inviting atmosphere. The wood also adds an extra dimension to the children's play experience by bringing a sense of naturalness and adventure into the playhouse.
Eddul is available with the following anchoring types:
S - Sunken Foundation
CC - Cast in Place
OM - Above Ground
BM - Loose Fill