Fill your basket with products by clicking "Add to my collection" from any product page. This can be found either within the product options panel or below the product image. Collections can be saved, and stored, within your HAGS Connect account or create and print your own custom brochure, download the files you need in one go, or to request a quote.
Outdoor Furniture in HPL
When it comes to creating comfortable and inviting outdoor spaces, the right furniture can make all the difference. That's why we're delighted to introduce you to our outdoor furniture range in HPL (High-Pressure Laminate).
We believe that outdoor furniture should not only be visually appealing but also functional and low-maintenance.
HPL outdoor furniture offers several benefits, including:
Durability: HPL is a highly durable material that is resistant to impact, scratches, and weather elements such as UV rays, rain, and humidity. HPL furniture is designed to resist fading caused by exposure to sunlight. It can withstand the rigors of outdoor environments and maintain its appearance and functionality for a long time.
Low maintenance: HPL furniture requires minimal maintenance. It is easy to clean and does not require regular staining, sealing, or painting like other outdoor materials.
Resistance to moisture and mold: HPL is highly moisture-resistant, making it an ideal choice for outdoor furniture. It does not absorb water, which helps prevent the growth of mold, mildew, and rot. This feature ensures that your furniture remains in good condition even in humid or rainy climates.
Longevity: Due to its durability and resistance to various outdoor conditions, HPL furniture tends to have a longer lifespan compared to other materials. Investing in HPL outdoor furniture can be a cost-effective choice in the long run, as you won't need to replace it as frequently, therefore making it a sustainable choice.
These benefits make HPL outdoor furniture a popular choice for residential, commercial spaces, schools, businesses, parks and recreational areas.
HAGS Ekeby outdoor furniture range in HPL
Ekeby is a robust and stylish furniture series with a minimalist elegance. The simple, timeless but also practical design means that it can be a joy in people's everyday lives for many years.
Find out more about our Ekeby range
Materials and Colours
Ekeby is offered as standard in colours green, grey and beige HPL together with a black powder-coated or hot-dip galvanized stand made of tubular steel in a square profile. For Ekeby, armrests are available as an option.
| | | | | |
| --- | --- | --- | --- | --- |
| | | | | |
| Black | Galvanised | Green | Grey | Beige |
HAGS Picnic Tables in HPL
Picnic tables in HPL are durable, weather-resistant outdoor furniture designed for leisurely gatherings. Made with high-pressure laminate surfaces, these tables offer excellent strength, scratch resistance, and resistance to fading or discoloration.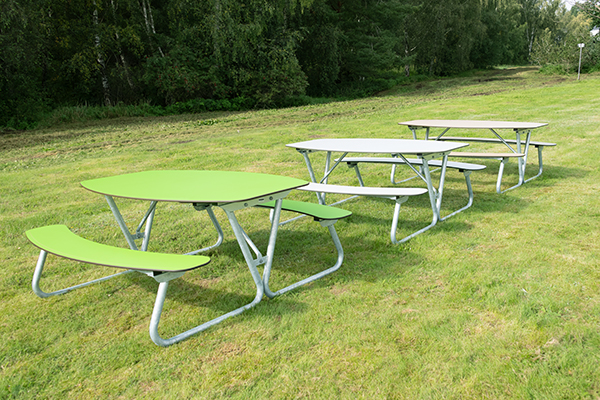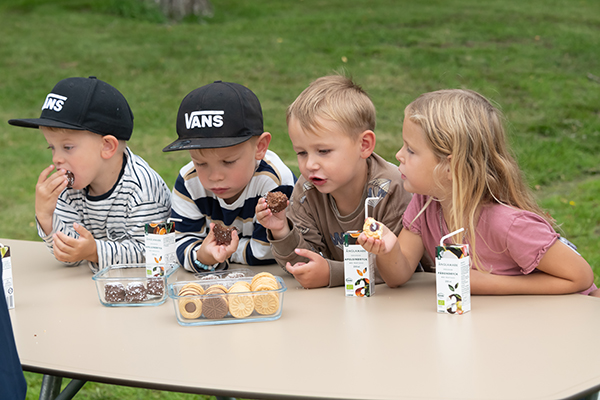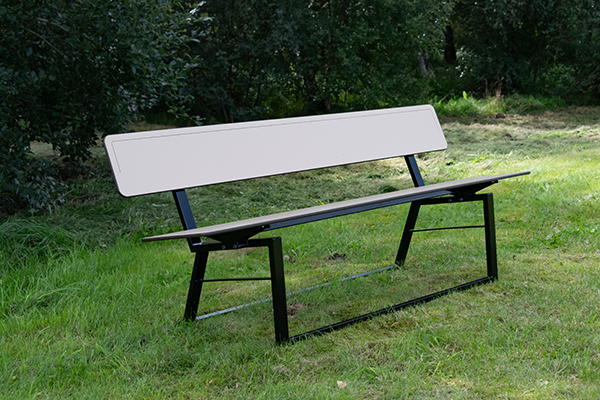 Start a conversation with us today on how we can help you get your project off the ground!
Contact Us
Contact Us
If you have questions or would like to know something about our products, you can contact us by phone, fax, email or directly on our website. If you do not know who at HAGS you should talk to, or if you would like to come in contact with a specific person at HAGS, you are welcome to call our switchboard to get connected to the right person.