Fill your basket with products by clicking "Add to my collection" from any product page. This can be found either within the product options panel or below the product image. Collections can be saved, and stored, within your HAGS Connect account or create and print your own custom brochure, download the files you need in one go, or to request a quote.
Outdoor furniture serves as an essential component of creating a functional and aesthetically pleasing outdoor environment for schools. It provides a range of benefits that contribute to enhancing the overall learning experience for students.
As research has suggested, outdoor learning is known to boost various aspects of a child's development, including confidence, social skills, communication, motivation, physical skills, knowledge, and understanding.
Additionally, outdoor learning has been found to positively impact children's self-esteem, self-confidence, ability to work cooperatively, and attitude towards learning. As school operators, it is crucial to provide a safe and conducive environment for learning, not just indoors, but also in outdoor grounds and communal spaces. One effective way to achieve this is by investing in high-quality commercial outdoor furniture for schools, such as those offered by HAGS Rosenlund.
Here are some key reasons why outdoor furniture is important for schools:
Safety: When it comes to outdoor learning, safety is of utmost importance. High-quality outdoor furniture designed for commercial use, such as those offered by HAGS, are built to meet stringent safety standards, ensuring that students can enjoy the outdoor space without any concerns about potential hazards.
Comfort: Comfortable outdoor furniture provides students with a conducive environment to engage in outdoor learning activities comfortably. Ergonomically designed outdoor furniture, such as benches, tables, and chairs, can help promote good posture and prevent discomfort during extended periods of use.
Durability: Commercial outdoor furniture is designed to withstand heavy use and various weather conditions, ensuring that it remains functional and visually appealing for an extended period. Investing in durable outdoor furniture can save schools the cost and hassle of frequent replacements, making it a cost-effective choice in the long run.
Functionality: Outdoor furniture is available in various designs and configurations, allowing schools to choose the most suitable options to meet their specific needs. From seating arrangements for group discussions to tables for outdoor lessons and benches for relaxation, outdoor furniture can enhance the functionality of outdoor spaces and cater to different learning activities.
Aesthetics: The appearance of outdoor grounds and communal spaces leaves a lasting impression on students, staff, and visitors. High-quality outdoor furniture can enhance the visual appeal of the outdoor environment, creating an inviting and pleasant atmosphere that promotes positive attitudes towards learning and enhances the overall school image.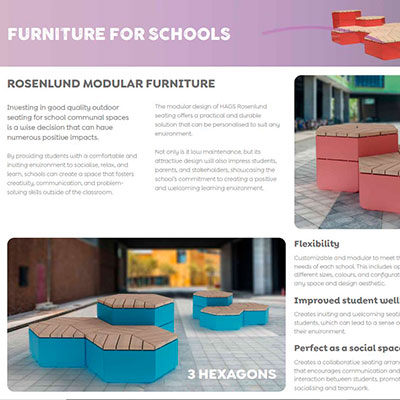 Browse our range by viewing or downloading our leaflet for Rosenlund outdoor furniture collection for schools.
View or download by clicking on the button below.
View Leaflet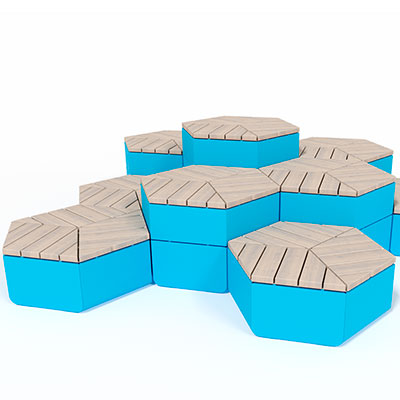 Start a conversation with us today on how we can help you develop your school communal spaces.
Contact Us
Contact Us
If you have questions or would like to know something about our products, you can contact us by phone, fax, email or directly on our website. If you do not know who at HAGS you should talk to, or if you would like to come in contact with a specific person at HAGS, you are welcome to call our switchboard to get connected to the right person.