Why choose HAGS outdoor furniture for your school
When it comes to finding the right site furniture supplier, look no further than HAGS. With over 75 years of experience, we are experts in providing outdoor furniture that is not only stylish, but also durable and safe. Our state-of-the-art manufacturing facility produces products that showcase exceptional craftsmanship and are built to withstand the test of time. Let us help you transform your school grounds into a space that is inviting, functional, and built to last.
Fill your basket with products by clicking "Add to my collection" from any product page. This can be found either within the product options panel or below the product image. Collections can be saved, and stored, within your HAGS Connect account or create and print your own custom brochure, download the files you need in one go, or to request a quote.
Little to no maintenance: Once you have your HAGS outdoor furniture in place, they're good to go — you don't even need to store them away during the winter. Our outdoor furniture is specially finished to resist stains of all kinds, mould and water absorption.
Special pricing: We are proud to serve schools, colleges, and universities of all sizes. No matter how large your order, we can offer special pricing on multiple purchases to ensure you get high-quality furniture at an affordable price. Just speak to a member of our friendly team to find out more.
Sustainable materials: At HAGS, we prioritise sustainability and environmental responsibility. Our outdoor furniture is made from sustainable materials, such as responsibly sourced wood, reducing our carbon footprint and promoting a greener future for our planet.
Safety features: As a school, safety is a top priority. Our outdoor furniture is designed with safety features in mind, such as rounded edges, non-slip surfaces, and sturdy construction to prevent accidents and injuries, ensuring that students can enjoy their outdoor spaces safely.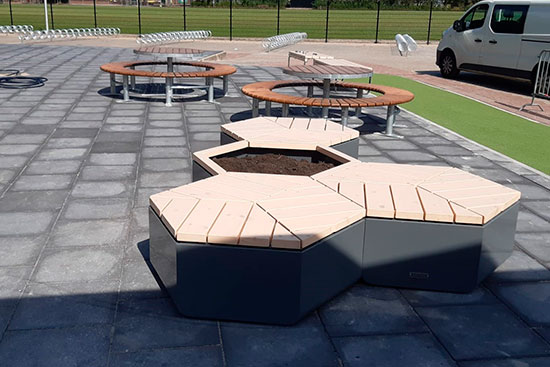 Warranty: We stand by the quality and durability of our products. All our outdoor furniture comes with a warranty, giving you peace of mind and assurance in your investment. Our warranty covers manufacturing defects, ensuring that you are satisfied with your purchase for years to come.
Expert guidance: Our team of experts is here to help you make the best choice for your school's outdoor furniture needs. We offer personalised guidance and consultation to help you select the right products that meet your specific requirements, budget, and design preferences, ensuring that you make an informed decision.
Installation services: We understand that installing outdoor furniture can be a complex process. That's why we offer professional installation services to ensure that your furniture is set up correctly and safely. Our experienced installers will ensure that your outdoor furniture is securely installed, saving you time and effort.
Community engagement: At HAGS, we believe in giving back to the community. We actively engage in community initiatives, such as sponsoring events, and supporting outdoor education programs. When you choose HAGS for your school's outdoor furniture, you are supporting a company that values community involvement and social responsibility.
When you choose HAGS, here are some benefits we are sure you will appreciate:
Variety of modern styles: When it comes to your school, style is important. The right outdoor furniture will complement the feel of your overall design aesthetic. At HAGS, our products come in an array of designs and feature modern styles and colours. You're sure to find products that will add a touch of sophistication to all your outdoor spaces.
Durability: All our products are built tough and crafted to last. In fact, we won't let anything leave our facility until it has been rigorously tested to ensure quality and durability. Your school's outdoor furniture will see a lot of use throughout the years. The solid construction of our products withstands high traffic levels as well as the elements without rusting, warping, peeling, or cracking.
Customizable option: Show off your school pride by choosing a customised colour to match with your own school's logo. Just speak with one of our representatives to find out how to customize your HAGS products with your very own distinctive colour.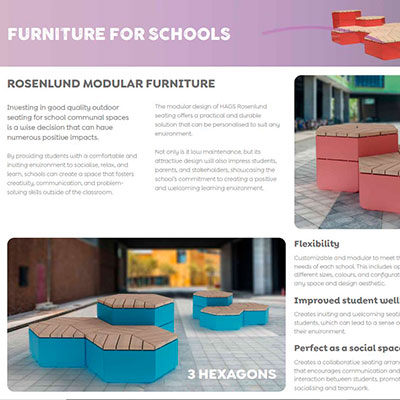 Browse our range by viewing or downloading our leaflet for Rosenlund outdoor furniture collection for schools.
View or download by clicking on the button below.
View Leaflet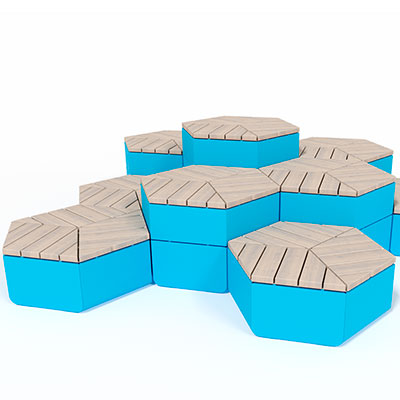 Start a conversation with us today on how we can help you develop your school communal spaces.
Contact Us
Contact Us
If you have questions or would like to know something about our products, you can contact us by phone, fax, email or directly on our website. If you do not know who at HAGS you should talk to, or if you would like to come in contact with a specific person at HAGS, you are welcome to call our switchboard to get connected to the right person.