Rosenlund Outdoor Furniture
The Rosenlund furniture brings together aesthetically pleasing features with a beautiful colour palette, as well as providing all the functions that outdoor furniture has to offer. Designed to be inclusive, stylish and durable.
Rosenlund is a flexible modular system for an attractive outdoor environment. Combine the furniture pieces and colours that suit your space best and create a functional and inspiring meeting place!
Park benches and tables, creative trellises and flower boxes that can be converted into benches, bicycle racks for the pupils or staff who cycle to work, and waste bins with the possibility of recycling - Rosenlund range allows all the possibilities to create a colourful meeting places.
At HAGS, we strive to find solutions where form and function work together and where timelessness is an important factor. We want our products to create natural meeting places for young and old. Over the years, we have collaborated with several Scandinavian designers to develop products that encourage people to spend time outdoors. Rosenlund is a result of our latest collaboration with Yellon.
Materials and Colours
Like all our products for outdoor use, Rosenlund is designed to last for many decades. The wood material is densely grown Swedish pine FSC certified. Pine from northern Sweden is one of the best materials for park furniture when you want it to withstand the effects of nature over a long period of time. The wood is first treated with a mild water-based based oil that protects against mould. The surface is then provided with two layers of white-pigmented based oil that protects against UV radiation and other environmental influences. The steel is powder coated and offered as standard in four different colours as well as a glazed alternatives. The colours are nice individually or in a combination.
| | | | | |
| --- | --- | --- | --- | --- |
| | | | | |
| S 1070 Y9OR | S 3040 B10G | S3040 B70G | S 6502 B | Galvanised |
Combination examples for schools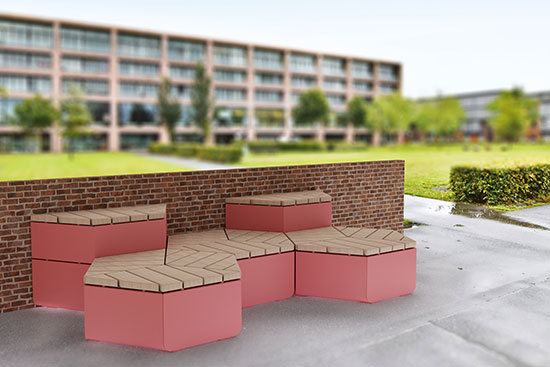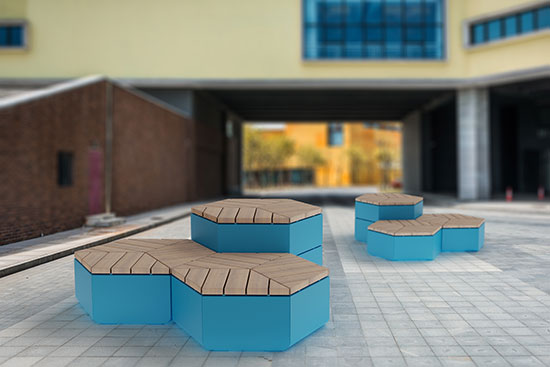 Inspirational combinations
Contact Us
If you have questions or would like to know something about our products, you can contact us by phone, fax, email or directly on our website. If you do not know who at HAGS you should talk to, or if you would like to come in contact with a specific person at HAGS, you are welcome to call our switchboard to get connected to the right person.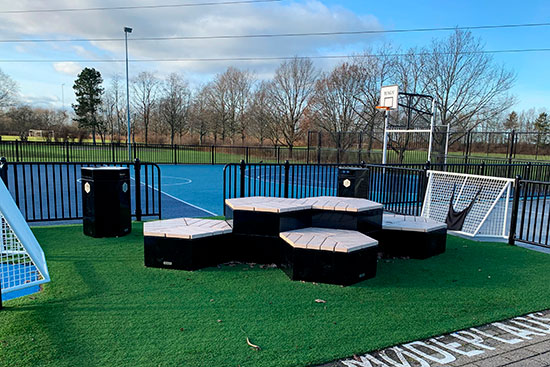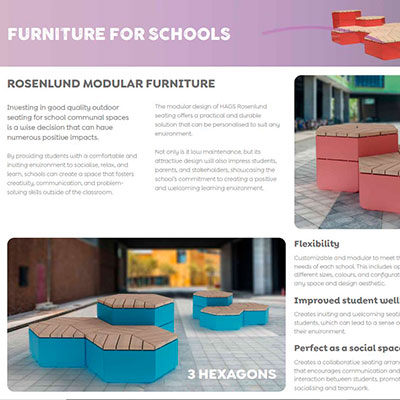 Browse our range by viewing or downloading our leaflet for Rosenlund outdoor furniture collection for schools.
View or download by clicking on the button below.
View Leaflet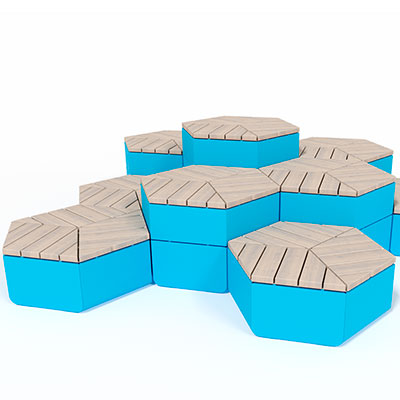 Start a conversation with us today on how we can help you develop your school communal spaces.
Contact Us