Rosenlund Outdoor Furniture for Schools FAQs
Welcome to our FAQ page about Rosenlund outdoor furniture for schools! You are here because you understand the importance of providing a safe and comfortable environment for your students. Outdoor furniture can play a vital role in creating a functional and enjoyable space for outdoor activities, whether it's for learning, dining, or socialising.
Whether you're looking to upgrade your existing outdoor furniture or are starting from scratch, we're here to help you make informed decisions that will benefit your students for years to come.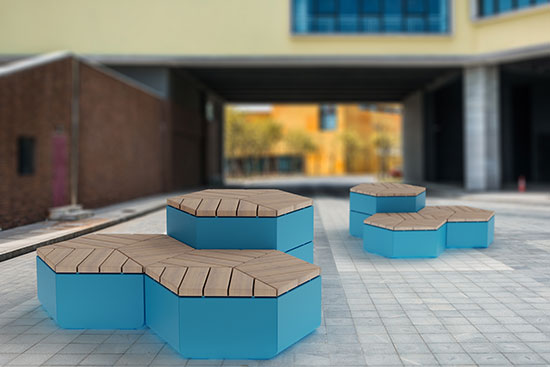 About delivery and installation
How quickly will my order be shipped?
A large range of products are stocked for immediate delivery and for all others they are consistently available on a 4-6 week lead-time. Please contact your local HAGS representative for further information or contact us.
How will my product arrive?
We know you need simplicity and reliability when it comes to deliveries, so your order will typically arrive palletised and carefully packaged. Our approved sub-contract hauliers will deliver to you based on the detailed information you are able to share at point of order.
Does my order need installation?
Our Park & Urban Furniture installation process is relatively easy and can be completed by a competent person or tradesperson without any prior knowledge of assembling similar products. HAGS provide detailed installation instructions which can be downloaded from the HAGS Website via the relevant product page. Click the following link to see an under 'Product Downloads': Example.
What guarantees will my product come with?
Our warranties are real and not simply a marketing gimmick. They are based on years of experience and through installing products into some of the harshest environments. Click here to find our detailed Warranty Documents.
Do you often install or deliver to schools?
Working within schools is a key part of our business. We have representatives in over 70 countries worldwide working with school headteachers, business managers and site managers daily. We understand the importance of safeguarding and can prepare full risk and method statements for delivery and installation work during or outside of term-time. Check out our Case Studies by clicking here.
About HAGS
Who are HAGS?
HAGS is an integral part of the global leader PlayPower, the business that supplies play, sports and fitness, park and urban, marine and shade equipment around the world. We have operating companies in the UK, Sweden, Germany, France, Spain, Denmark, and Poland as well as a global network of authorised distributors in other markets. Click here to find out more.
Can you help us design an outdoor area?
Whether new build, refurbishment or enhancement, no project is too small or too large, and our dedicated in-house team will guide you through every stage of your project, from initial enquiry, through to completion and aftercare. Please contact your local HAGS representative for further information or contact us here.
How does HAGS contribute to a better environment?
Our Manufacturing plants in Selby, UK and Sosnowiec, Poland both hold ISO 14001 certification, which is the international standard for environmental management systems (EMS). This helps us control our environmental aspects, reduce impacts and ensure legal compliance. Read more by clicking the following link on Sustainability.
How do I know your products are good quality?
Since HAGS started in 1948, quality has been a key principle in our company culture. We strive to provide a quality service as well as quality products. Investments in our new factory, from new paint lines to infrastructure, will keep HAGS products competitive in an ever-changing market. Click here to read more.
About ordering
How do I obtain pricing?
Pricing can be obtained from your local HAGS representative or HAGS Office. Contact us for a detailed price list or itemised quotation (including installation if required). Contact us today to find out more.
How do I place an order?
Once you have a quotation or a price in writing from your local HAGS representative or HAGS Office, please place your order either using your own standard Purchase Order process or by confirming your order on Company Branded Headed paper with the following information:
Product Number, Product Description, Quantity Required, Colour, Unit Price, Total Price
Delivery Address, Delivery Contact Name, Delivery Contact Details
Invoice Address, Invoice Contact Name, Invoice Contact Details
We'll get right back to you with an Order Acknowledgement and details of a due date for your order.
What are my colour options?
When it comes to identifying a colour to best suit your school yard setting, HAGS offer a standard range of colours that you can easily choose from.
| | | | | |
| --- | --- | --- | --- | --- |
| | | | | |
| S 1070 Y9OR | S 3040 B10G | S3040 B70G | S 6502 B | Galvanised |
If you prefer you can build a custom colour palette. Just send us the RAL number and we'll do the rest to ensure you get the exact colour scheme you want to suit your school colours, uniform or logo.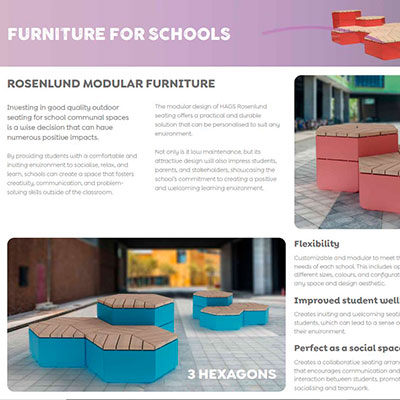 Browse our range by viewing or downloading our leaftlet for Rosenlund outdoor furniture collection for schools.
View or download by clicking on the button below.
View Leaflet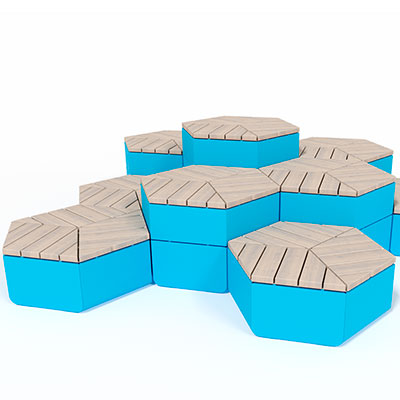 Start a conversation with us today on how we can help you develop your school communal spaces.
Contact Us
Contact Us
If you have questions or would like to know something about our products, you can contact us by phone, fax, email or directly on our website. If you do not know who at HAGS you should talk to, or if you would like to come in contact with a specific person at HAGS, you are welcome to call our switchboard to get connected to the right person.