Fill your basket with products by clicking "Add to my collection" from any product page. This can be found either within the product options panel or below the product image. Collections can be saved, and stored, within your HAGS Connect account or create and print your own custom brochure, download the files you need in one go, or to request a quote.
Benefits of purchasing commercial office outdoor furniture
Sturdy and Stylish Corporate Buildings - Elevate Your Workplace Experience
Providing outdoor seating and creating personalised outdoor spaces can have numerous benefits for businesses. From enhancing customer experience and staff productivity, to improving brand identity and customer loyalty, the advantages are clear. Businesses that invest in outdoor seating and customised outdoor spaces are likely to see a significant return on investment, both in terms of financial success and overall business reputation.
Providing outdoor seating for staff and customers is an increasingly important aspect of any successful business. Not only does it create a more comfortable and inviting environment, but it can also have numerous benefits for the business itself.
For staff, outdoor seating can provide a space for breaks and relaxation, improving their productivity and overall job satisfaction. It also creates a more attractive work environment, making it easier for businesses to attract and retain talented employees.
Customised and personalised outdoor spaces can further enhance a business's appeal. By incorporating branding and unique design elements, businesses can create a memorable and distinctive outdoor area that reflects their values and personality. This can help to establish a strong brand identity and differentiate the business from competitors.
Commercial outdoor seating, including benches, picnic tables, and professional-grade dining sets, can give employees a place to relax during a meeting or sit and enjoy their break.
Bike shelters and racks around the perimeter of your office building encourage eco-friendly modes of transportation, which many bike riders will appreciate.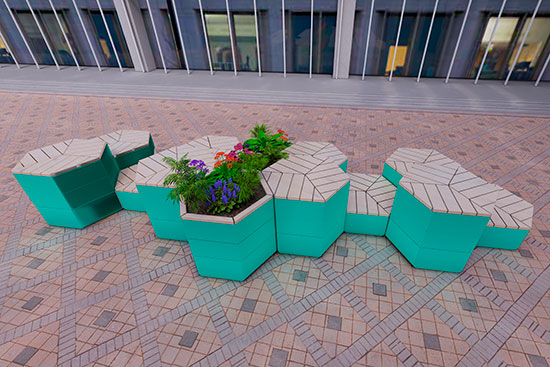 Outdoor waste bins make it easier to keep your area clean. Choose from commercial waste and recycling bins in an array of different styles to keep up the look of your building.
By outfitting your office building with ash trays, you can provide a designated space for smokers to put out their cigarettes. Ash trays from HAGS come in a variety of styles to blend in with your building's aesthetics.
HAGS Shade solutions are considered as one of the easiest and most stylish ways to block rain and sunlight on your corporate campus. We carry a unique line of both standard and custom shelters designed to stand up to the elements while providing quality and longevity.
Planters help bring a bold look to your outdoor area by containing plants in a decorative and modern way. Having plants in your work environment can clean the air, boost creativity, reduce absence rates, and lower stress levels.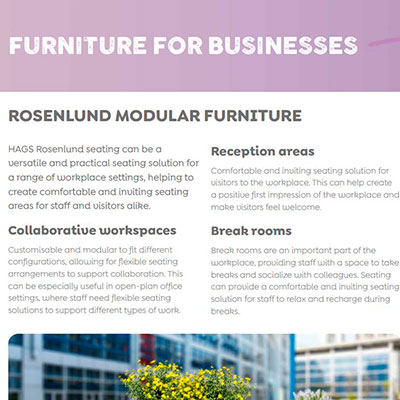 Browse our range by viewing or downloading our brochure of Rosenlund outdoor furniture collection for businesses.
View or download by clicking on the button below.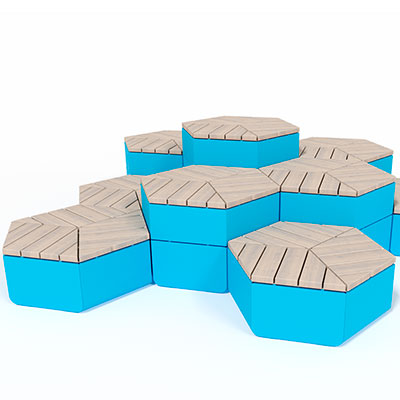 Start a conversation with us today on how we can help you develop your school communal spaces.
Contact Us
Contact Us
If you have questions or would like to know something about our products, you can contact us by phone, fax, email or directly on our website. If you do not know who at HAGS you should talk to, or if you would like to come in contact with a specific person at HAGS, you are welcome to call our switchboard to get connected to the right person.