Designing the right leisure area for your holiday park or campsite
Playground design for holiday parks or campsites can be different to municipal parks and other public destinations. Playgrounds on campsites are designed to keep children busy and entertained for typically much longer periods as these are often destinations where visitors are resident for multiple days at a time.
Many holiday and campsite operators turn to HAGS for products that serve adult campers, too. Outdoor fitness equipment, benches, shade structures, waste bins and other site furniture all make your recreational areas appealing to more campers.
Five considerations to make your space stand out
1. Aesthetic Appeal
The visual harmony between your playground equipment and the surrounding environment is crucial for creating an inviting and seamless experience. When choosing playground equipment, it's important to select designs, colors, and materials that complement the natural landscape or the overall design scheme of your campsite or holiday park. An aesthetically pleasing playground enhances the overall ambiance, making visitors feel more connected to the surroundings and encouraging them to spend quality time outdoors.
Find out more about our Wooden Playground Range: Inspired By Nature.
2. Inclusivity
Diversity in visitor demographics requires a diverse and inclusive play environment. Inclusivity goes beyond just accommodating different age groups; it also involves considering the needs of individuals with varying abilities. An inclusive playground ensures that everyone can enjoy the space comfortably, regardless of physical or cognitive challenges. Features like accessible ramps, sensory play elements, and seating options contribute to a welcoming environment for all visitors.
Find out more about Designing Inclusive Playgrounds.
3. Safety
Safety is of paramount importance in any recreational space, especially where children are involved. Parents and guardians need assurance that the play areas are designed and built to the highest safety standards. Independent testing and adherence to safety standards, as exemplified by HAGS products' partnership with TUV in accordance with the European Safety Standards (EN 1176), instill confidence among visitors. Transparent safety measures build trust and encourage families to engage in play without worrying about potential hazards.
Find out more about our Safety Standards.
4. Play Value
Play is not only about having fun but also about facilitating holistic development. Well rounded play experiences incorporate physical, creative, cognitive, and social elements. The playground should offer opportunities for physical activities like climbing, swinging, and balancing. Creative play can be nurtured through interactive and imaginative elements. Cognitive and social play can be fostered through collaborative games and activities that encourage problem solving and teamwork. A mix of play values ensures that visitors have diverse and enriching experiences.
5. Products for Older Children and Adults
Campsites and holiday parks cater to a wide age range, including older children, teenagers, and adults. Outdoor fitness equipment, sports arenas, and picnic areas provide opportunities for older visitors to engage in physical activities that align with their preferences. The inclusion of site furniture such as picnic tables, shade structures, and litter bins enhances the overall comfort and functionality of the space. By offering amenities that cater to various age groups, you create an environment that encourages multi-generational interaction and engagement.
Creating exceptional outdoor recreational spaces involves a thoughtful blend of aesthetics, inclusivity, safety, play value, and provisions for various age groups. By considering these aspects, you not only create an environment that is visually appealing and safe but also one that fosters connection for all visitors.
Campsites and holiday parks become more than just places to stay – they transform into vibrant hubs of play, relaxation, and connection with nature, enriching the overall experience for everyone who walks through their gates.
Choose HAGS for Themed Playground Equipment
HAGS is your go-to destination for thrilling, innovative playground equipment for holiday parks and campsites. Our company was established in 1948, and we still maintain our reputation as an industry leader over seven decades later.
At HAGS, we always strive to design robust, engaging, and inclusive equipment that benefits children, families, and organizations alike. When you choose us as your playground provider, you take the first step toward cultivating play experiences that children will treasure for years to come.
A themed playground goes beyond traditional play structures, immersing visitors in a world of imagination and exploration.
The themed playground becomes a focal point that ignites curiosity and engagement, offering children an opportunity to weave their narratives while developing social skills and confidence. By offering a personalised and customised theme which is unique to your holiday park or campsite, you can create a beautifully enchanting and one-of-a-kind experience for your guests!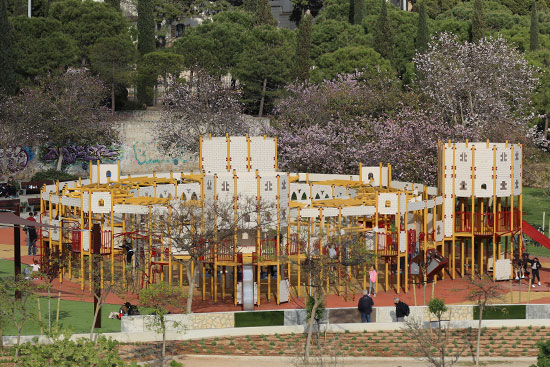 Consider adding spaces for Sporting activities
Browse our range by viewing or downloading our Brochure for Holiday Parks and Campsites.
View or download by clicking on the button below.
Brochure
Start a conversation with us today on how we can help you develop your holiday park or campsite.
Contact Us
Contact Us
If you have questions or would like to know something about our products, you can contact us by phone, fax, email or directly on our website. If you do not know who at HAGS you should talk to, or if you would like to come in contact with a specific person at HAGS, you are welcome to call our switchboard to get connected to the right person.