Multi Functional Play Equipment
Standard multiplay units combine several play activities, from role play accessories to challenging climbing frames. Our range comes in a variety of materials and looks, from natural-looking timber play structures to steel products boasting a contemporary aesthetic.
Creating an outdoor space
This Alanis UniPlay unit and UniMini Eima have been installed in a holiday camp in Marseille. The two multi-play units cater for a broad age range and extra protection against the sun is provided on the Alanis structure.
Read more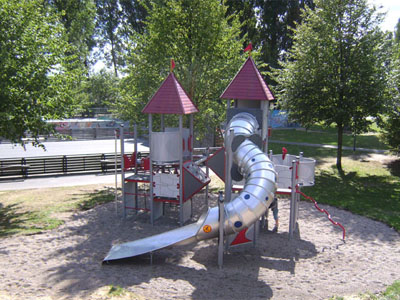 This striking castle-themed UniPlay Lycce unit with bespoke engraved screen panels was commissioned by Velten city council as part of a scheme to increase play and sports provision for older children. Steel posts and HPL panels were chosen for their durability and resilience, considering that there is a history of vandalism in this less privileged part of town.
Read More
The team's communication and liaison was excellent. Where compromise was necessary because of prevailing conditions, the outcome was always in the best interests of the children. All parties brought their own skill set and worked as a dream team!