Tervetuloa HAGS Liikuntaan ja Ulkokuntoiluun
Kuntoilu on keskeinen tapa parantaa lasten, nuorten ja aikuisten terveyttä ja hyvinvointia. Mielestämme on tärkeää tarjota tuotteita, jotka ei ole sidottu tiettyihin urheilulajeihin vaan antavat kaikille mahdollisuuden helppoon liikuntaan mm. fyysisen toimettomuuden ja lihavuuden torjumiseksi sekä ennaltaehkäisemään muita terveysongelmia. Liikunta- ja kuntotuotevalikoimamme tukee tehokasta liikuntaa, ylläpitäen ja parantaen voimaa, kestävyyttä, liikkuvuutta ja koordinaatiota. Liikkuminenkin voi olla hauskaa.
Creating an outdoor space
New Fitness Equipment - The Leg Press
HAGS's new addition to the outdoor fitness range!
The Leg Press helps builds strength and endurance in the hamstring, calves, quadriceps and gluteal muscles, whilst keeping your back supported.
Designed for up to 2 users at a time, it allows for people to exercise next to each other, which is great for that extra (usually much needed) motivation and support.
The Leg Press is safe, easy-to-use and is built with easy access seats.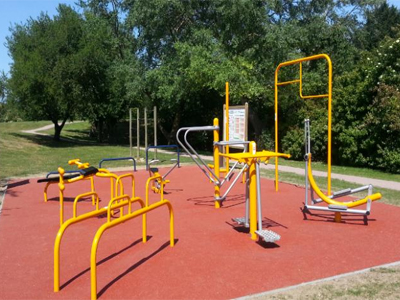 The project was spearheaded by Paolo Boulent, director of Mondeville city council' sports department and ex-professional athlete, and is part of a wider programme launched by the council to improve the city's sports provision and encourage the residents to work out regularly.
Lue lisää
HAGS worked in partnership with Wokingham Borough Council to develop an innovative Multi- Use Games Area (MUGA), aimed at tackling inactivity, encouraging community spirit and promoting the practice of different sports for all ages and abilities.
Lue lisää
The facility is already used by neighbouring schools and reading football club organise free training sessions for the public. We have also had interest from the SHINE programme (Some Health Improvements Need Exercise), intending to organise programmes for the over 60s.