Fill your basket with products by clicking "Add to my collection" from any product page. This can be found either within the product options panel or below the product image. Collections can be saved, and stored, within your HAGS Connect account or create and print your own custom brochure, download the files you need in one go, or to request a quote.
Play For All - Inclusive Playground Planning Tips & Inspiration
Playing is both fun and necessary for a child's development. All children should be allowed to play, no matter what their background. Creating accessible playgrounds can be difficult, but we believe that through good cooperation and planning, the perfect playground can be created.
A creative designer, passionate about inclusive playgrounds, shares her top tips for creating meeting places that can be used by everyone. Read her thoughts here.
Download the Play For All brochure, by clicking on the button below, for even more tips and inspiration in creating meeting places for everyone.
From a creative designer's perspective
Helen Bergander, Creative Designer
Helen Bergander is a creative designer who is passionate about the playground becoming a meeting place for everyone. In her role where she works with customer-specific projects focusing on accessibility issues, these are excellent traits.
Accessibility is not just about wheelchair users
I want to start by emphasizing that accessibility is not just about wheelchair users. Accessibility affects so many more. There are many disabilities that we need to take into account. Not everyone can do everything - but there must be something for everyone!
Considering varying degrees of difficulty when planning a playground is very helpful. Try to make the whole playground exciting, flexible and challenging.
Creating a playground for all
Let's say we want to build an obstacle course. For children with ADHD, physical and fast-paced activities are good. Children in wheelchairs also want to test their limits but can't do the same things. One solution could be to make two obstacle courses next to each other. One track at ground level where you drive around various obstacles, and the other track can include balance and climbing opportunities.
Balance exercises are good for children with hearing loss because they often have more difficulty with balance. Making sure that the courses have good contrast markings makes it easier for children with visual impairment. In this way, children with different needs can play together - side by side.
Creating enough space for everyone
Children with intellectual disabilities play later in life. So, it's important to keep in mind, that for them, the space needs to be large enough for an adult body. It also needs to be easy to understand what they have to do. Children who don't have a disability will also have fun on both tracks.
With more levels, we encourage all children to play together, regardless of whether they have a disability or not.
5 good playground accessibility thoughts from Helen..
1. Activity & experience
Think activity and experience instead of product and equipment. Balance, climb, slide, swing, move, meet, rest, spin, bounce, jump.
2. Stimulate the senses
Use things that encourage you to look, listen and feel.
3. Levels of difficulty
Try to bring in different levels of difficulty in the play features so that more people can do similar things, and also train themselves to do more and more.
4. Space
Remember to create enough space around the play products. It can be the parent / guardian who is in a wheelchair and wants to be able to play with the child.
5. A meeting place for everyone
Don't make targeted additions that distinguish and point out. Try to get the playground into a meeting place that is stimulating, flexible and creative for everyone.
More topics from our Play For All brochure
These are some of the other topics that you can find in our Play for All brochure. We hope that this can inspire you in your work to think, plan and create meeting places for everyone.
Download your free copy by clicking the button below.
Meet Milgott
Milgott was born with Down Syndrome. In this brochure, he shares his playground experience, he describes his dream playground and shares some tips for those who make playgrounds.
You can also follow his adventures on instagram @milgottx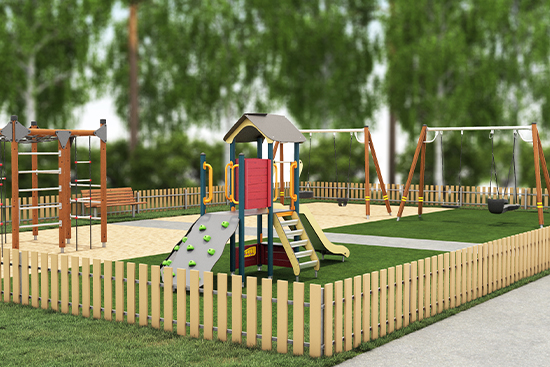 How an existing playground can be made inclusive
Of course, it's easier to think of play for all when planning a completely new playground, but that possibility doesn't always exist. We share our tips on what you can do and provide you with a checklist of things you can consider to make the playground even better.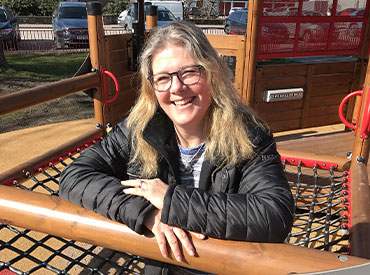 How a salesperson plans an accessible playground
Ylva, a HAGS salesperson, shares her experiences in creating a playground that is accessible to everyone.
Our network of experts
We want the knowledge to be real, so we have a network of exerts to helps us provide children and parents with the best possible opportunities, take a look at who they are.
And so much more..
You will find some great inspirational inclusive playgrounds; from a special school in Norway for students with neurological difficulties to a public playground in a busy square in Barcelona, Spain.
We also highlight a selection of our products and how they can be beneficial for children's development.
Contact Us
If you have questions or would like to know something about our products, you can contact us by phone, fax, email or directly on our website. If you do not know who at HAGS you should talk to, or if you would like to come in contact with a specific person at HAGS, you are welcome to call our switchboard to get connected to the right person.