Welcome to Play
Designed to offer a stimulating play experience to young and older children alike, our outdoor play equipment range comprises more than 1500 products - giving specifiers maximum flexibility when planning for a play area, whether they need a classic steel swing or an entirely bespoke timber play structure. Learn more about our exclusive playground equipment, or find out how to design and build your own playground in our creating an outdoor space section.
Creating an outdoor space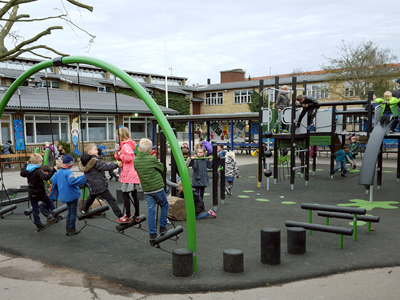 School children are spoilt for choice at this school; a bespoke UniPlay unit with a custom colour scheme and a NRG trim trail provide a variety of play activities, including slides, climbing frames and a number of challenging physical activities.
Read More
This Alanis UniPlay unit and UniMini Eima have been installed in a holiday camp in Marseille. The two multi-play units cater for a broad age range and extra protection against the sun is provided on the Alanis structure.
Read more
The team's communication and liaison was excellent. Where compromise was necessary because of prevailing conditions, the outcome was always in the best interests of the children. All parties brought their own skill set and worked as a dream team!