New Multi-Play Units
Our flagship range, UniPlay, has just had a boost with the introduction of an exciting new selection of multi-play structures.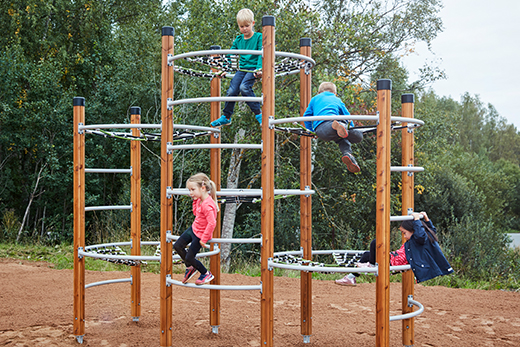 UniPlay structures for all abilities
HAGS' playground designs are traditionally known for their functionality and practicality. We utilise a simple, timeless design aesthetic that is appreciated globally. The new UniPlay products will continue this tradition with modern designs and play features that are intended for all abilities, and which will fit perfectly to any setting and urban environment.
These 10 new units offer plenty of playful elements to keep children between the age of 5 and 12 entertain with new exhilarating ways to climb, slide and "fly", as well as different levels of difficulty and complexity for all abilities. They are packed with numerous play values like climbing, balancing, sensory, tactile, coordination, and many more.
We have also incorporated new materials which offers children a fun interactive experience with exciting tactile features.
Create your own adventures with UniPlay
Children can use their imagination and play a key role in their adventure on the Castle Nahoj play unit or the Agir ship themed multi-play structure. Whilst those with a more competitive edge can race each other to the top on the Fyri, Swixy or Ennaj climbing units.
Explorers can traverse through the towers of Assid and Lavon via the fun and challenging Wobble bridge, or those that are brave enough can test their balance on the Melax by crossing through the Rope Walk to reach the next tower.
Thrill seekers can experience speed and risk while they fly through our Zippie Zip Rail. And when it's time to take a break, children can do so on the Webby nets featured on many of these new multi-play units where they can relax and socialise.
Meet our latest UniPlay additions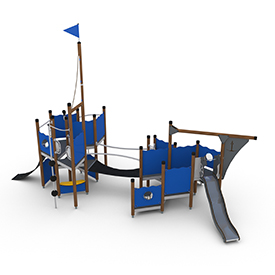 Agir
Ship Agir, a themed multi-play unit, allows children to choose their own adventure. Packed with many play activities, children will enjoy exploring this ship!
Number of users: 30
Assid
A two tower unit with many climbing paths. Children can race down the double width slide and traverse through the fun wobble bridge.
Number of users: 8
Ennaj
This ultimate futuristic climbing unit is perfect for competitive play and socialising, it offers various climbing options and areas to relax.
Number of users: 22
Fyri
This modern net climbing frame has a variety of difficulties and choices. Children can opt to hang out on the Webby relax nets located at different heights.
Number of users: 16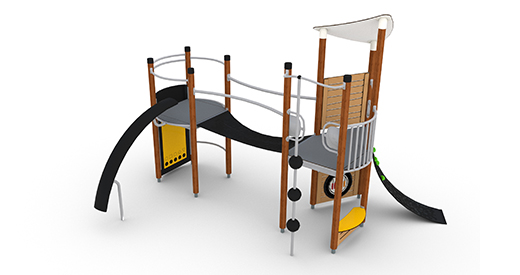 Lavon
A multi play unit packed with a variety of climbing options and play functions such as the challenging wobble climb and exciting glider.
Number of users: 18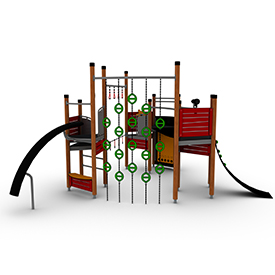 Melax
A fun and competitive multi-play unit with a variety of play functions for everyone, from the rope walk to the shop counter.
Number of users: 25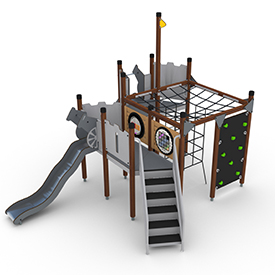 Nahoj
Castle Nahoj is a themed multi-play unit offering children the chance to use their imagination. Features an accessible staircase with handrails and two slides at different heights.
Number of users: 20
Sungam
Provides various climbing levels for children of different abilities. The Webby relax offers a hang-out space for those wanting to sit back.
Number of users: 18
Swixy
This twisted climbing net offers three different levels of difficulty with a net at the top for relaxing and socialising.
Number of users: 12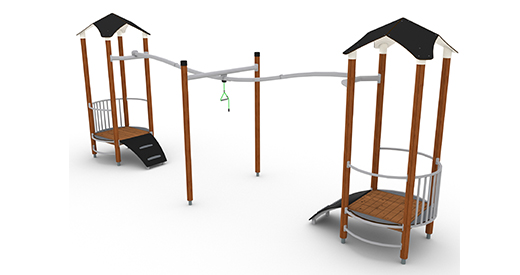 Zippie
This track ride provides the experience of height, movement and the excitement of speed and risk as children "fly" from tower to tower.
Number of users: 6
Rope
The rope we use is a high quality 16mm, 6-strand, fibre core rope from our sister company Tayplay. The braided fibres reduce the risk of strand unwinding if cut and the glued nylon strands decreases rubbing within the rope, reducing fatigue in the rope fibres.
The connectors are hydraulic-pressed aluminium and the end fixing is a 6mm stainless steel shortlink chain.
Available in either black and green or black and red colour combinations.
Elastomer
The Wobble Bridge and Wobble Climb are made from steel reinforced elastomer which has the same components of the polymer used in the mining industry for transporting crushed rocks. This strong, flexible material has a high durability and high resistance, resulting in a long life and low maintenance. The grip pattern is achieved by casting the product in a tool which gives the same great result on every product.
This material is perfect at providing children with an element of risk due to its bendy nature, plus the textured surface prevents slipping while providing a great tactile experience.
Timber
Our high-quality laminated timber poles are composed of three sections joined together, a method that increases strength and reduces cracking. Our timber poles feature machined grooves that allow the wood to expand and contract without cracks forming.
All our wooden posts have galvanised steel ground sockets to avoid direct contact with soil, thus reducing the risk of mould contamination or rot.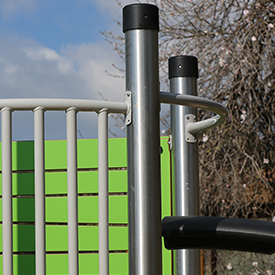 Steel
Most of our UniPlay units are also available in steel. This material is exceptionally durable with a smooth, aesthetically pleasing finish that offers excellent resistance to corrosion and requires little maintenance.
We only use structural grade steel engineered to cope with repeated use and heavy impacts.
New Components
As well as the new UniPlay combinations mentioned above, we have also launched an exciting range of components, including play panels, which are all compatible with our UniPlay units.
Find out more about how you can build your own multi-play unit with our modular UniPlay range and components by clicking on the link below.
How to build a multi-play unit
Add a fresh modern twist to your multi-play structures with these fun new components!
Webby Climb
Webby Relax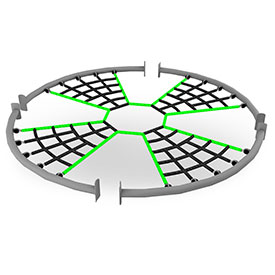 Wobble Bridge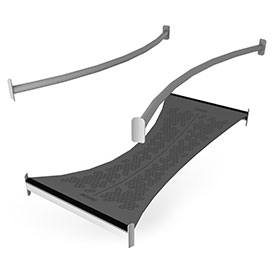 Wobble Climb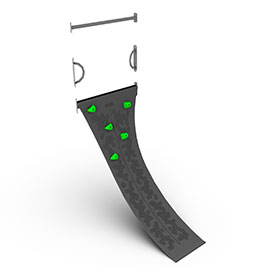 Cannon Slide
Double Width Slide
Low Ramp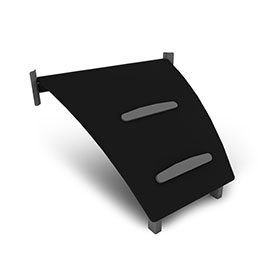 Twister
Rope Walk
Zip Rail
Game Panels
Play Panel Barriers
Castle Barriers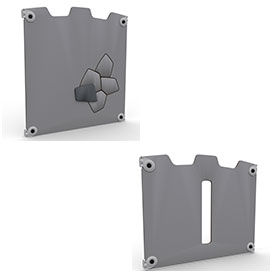 Water Barriers