Creating an Outdoor Space
Get some tips on how to create welcoming and inclusive outdoor recreational spaces for your community, and use our inspiration finder to discover HAGS playgrounds and sports facilities near you.
HAGS designed and developed an inclusive playground in the city of Burgos for children of all abilities to enjoy, creating a comfortable play area for both children and parents.
leer más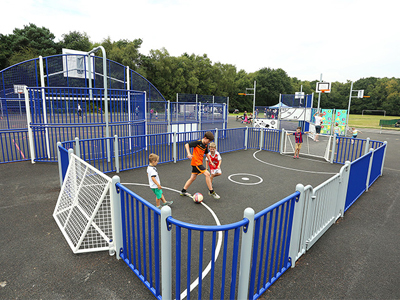 HAGS worked in partnership with Wokingham Borough Council to develop an innovative Multi- Use Games Area (MUGA), aimed at tackling inactivity, encouraging community spirit and promoting the practice of different sports for all ages and abilities.
Read More
This is a tremendous facility for Finchampstead and one that we know will be well-used. The facility is already used by neighbouring schools and reading football club organise free training sessions for the public. We have also had interest from the SHINE programme (Some Health Improvements Need Exercise), intending to organise programmes for the over 60s